---
From our Paperhanging Tool Department.............
Wallpaper Smoother

Easily smooth out creases and bubbles in your wallcovering projects with the Rust-Oleum Zinsser Flexible Smoothing Tool.

Use to smooth wallpaper and borders
Guides corner trims
Great for use as a paint shield


No. 95012

SmartEdge 4 Inch Adjustable Wall Stripper

Adjustable head for multiple attack angles is designed for either right or left handed users.


Features:
Adjustable, locking head puts blade in multiple attack angles
Designed for either right or left handed users
Patented design allows for two handed use
Slip Resistant Bi Material handle with recessed thumb area for comfort and control
Blade storage in handle
Includes 5 blades

VIKING Heavy Duty Pasting Machine

The Viking was designed and refined by journeymen vinyl hangers.

It will handle unthinned clay adhesives

It is aggressively overbuilt out of excessively premium materials.

They last for decades.

If you're in the wallcovering business for the long haul

You ought' a take a Good Look!!!

Wallpaper Buddy Tool Apron

Perfect Tool Apron Designed by a Paperhanger

100% Cotton Duck. 10 ounce material is durable and washable. Designed to hold razor knife, scissors, corner roller, flat roller, 12 inch smoothing brush and smoothing tool. No. 623612 ($19.99)

3 New Smoothing Brushes 12 Inch with No Rust Stainless Steel Ferrule

We have three new smoothing brushes that will not rust! Most smoothers use a chrome plated ferule that can rust when scratched. These smoothers have a ferrule made entirely of stainless steel. No more rusting! All are 12 inches wide and available in bristle and nylon. Click here to see them. ($43.77)

Tapo Fix Wallpaper Pasting Machine XST60

Tapo-Fix Gear-driven, "pop out" paste applicator, handles all types of paper and individual pieces up to 60". "Pop out" feed roller and NEW sloped-bottom, paste tray allow use of heavier adhesives. Built-in cutting edge for quick, accurate, right-angle cuts. Machine, stand, frame and NEW stabilizer bar are all made of stainless steel. Fast, safe and easily assembled on the job by one person. We now also sell the CB56 model. See them here TapoFix

Electric Bucket Heater for 5 gallon plastic buckets

For use in those cold climates where materials need to be brought to correct temperature to increase flow and leveling. Complete with stainless steel guard. Will not damage Plastic buckets. fits 5 gallon buckets. Heats water to over 180 degrees. No.742G ($54.77)

Olfa Auto Loader 13 pt Break

Off Knife

Holds up to 5 blades (65 points) The new Expert Series Pro-Load Multi-Blade Cutter. OLFA understands that time is important on the jobsite and is committed to the development of products that work for you. That's why the Pro-Load can hold up to five blades at a time, giving you 65 new cutting segments per load. No.PA2 ($9.99)

BLADEaterTM

Break Off Knife Holster and Blade Snapper

The patented BLADEater™ Holster snaps blades fast! It is an innovative way to keep the snap off knife organized. Its disposable blade well cartridge has 10 super sharp blades attached in an easily accessible compartment. The blade well is equipped with two separate slots, the first of which is conveniently located on the side whereby the user can guide a knife into the corner slot and break off a blade segment, using only one hand! The break off slot also allows the blade to be snapped off in the correct direction, which is away from the scored side of the blade. "Now this is more like it!" A BETTER WAY TO SNAP BLADES! No. DB03 ($12.99) Order Blade Well Refill Packs No. DB02 ($5.99)

Razor Blade Dispenser and Disposal Pack

Safe, pop-up blade dispenser and used blade storage.

Features:
Safe, pop-up 100 blade dispenser
Secure used blade storage in rear of unit
Clear see through cover reveals remaining blades
Push button dispenses blade - allows blade to be handled opposite sharp edge Includes 100 blades.

AUTOLOADING 12 POINTBREAKOFF KNIVES

Aluminum, loads 5 blades automatically A must have knife! New break off blade knife is comfortable and rust proof aluminum. Automatically loads 5 - 12 pt blades before reloading. Includes break off tool. Easy refilling. Uses any break off blade. No. 1500 ($16.77)
From our Spray Equipment Department ............
Aircoat Air Assisted Airless Fine Finish Outfit

The CAPspray AirCoat is the only portable – totally selfcontained Air-Assisted Airless Fine Finishing System. Works out of your container with siphon tube. Includes gun, 50 foot hose and tip. Larger Tires for Easy maneuverability • The CAPspray AirCoat uses low fluid pressure combined with low air pressure to deliver ultra fine atomization with high transfer efficiency. The end result is exceptional finish quality. Air Adjustment • By utilizing lower fluid pressure and injecting air, the CAPspray AirCoat maintains significantly higher transfer efficiency than traditional airless sprayers without sacrificing application speed. It is an amazing, dedicated finishing tool. Large easy to read gauges and precise fluid control. No.0508074 ($1999.00) Free Shipping

Pressurized Texture Hopper Gun

The ONLY Texture Hopper Gun that Works by Pressure and Does Not Rely on Gravity Feed

. Newly Designed Tip for Air On Before Material. Slim, Easy to Handle without Spilling. Regulates Material Coming Out. Energy Saver - Sprays as Soon as Trigger is Pulled. Air Stops when Trigger is Released.

No. MES ($149.00)

Accuspray Turbine HVLP

Model 300T Outfit

Best Gun on the market FREE SHIPPING 3-stage high-performance HVLP turbine that handles a wide variety of materials including stains, sealers, urethanes and oil-based coatings. The 300T is a reliable turbine containing a dual filtration system for dry clean air delivering 85 cubic feet per minute (cfm) and 5 psi at the gun. The lightweight side-mounted motor improves airflow for the widest range of HVLP applications. This job tested line of turbines performs in the toughest working conditions indoors or out. Gun is made of carbon fiber and will stays cool. This is the same gun used in automotive spray applications. Includes: Gun / Tip / 1-quart cup / 30-ft hose / whip hose / control valve. Includes shipping in continnental US. No. 300T ($877.00)

Rotortex Texture Sprayer Outfit Sprays Stucco!

Will Spray A Variety Of Materials Such As: Smooth To Heavily Aggregated Texture Coating With Silica Sand, Perlite And Vermiculite. Wall Texture Finishes From Orange peel To Heavy Knockdown, Gypsum Materials, Simulated Acoustic, Stone paint, Deck Coating, Some Cement Base Materials, Monokote Mk-6 Fire Proofing And EIFS Products. * 20 Gallon Anti Spill Hopper (patent pending). * Variable Speed Control Box With Fwd & Rev . * Anti Lock Pump Design (patent pending). * Removable Control Box (patent pending). * Plug To A Regular 15Amp Receptacle. * Will Draw Only 4.2Amp @ Max Load. * Can Use Up to 100 Feet of Material Hose (Determined by viscosity). * Portable & Profitable. * No Viscosity Check Needed. * Able To Spray Heavy Products. * Easy To Assemble or Disassemble. * The Quietest Sprayer Out There. * Heavy Duty Timing Belt Power Transfer. * Performance Like a Big Rig Without The Cost. * Special Base For Gas or Electric Air Power Pack (patent pending). No. B19200 ($3250.00)
From our Paint Sundries, Ladder Department ...........
PEEL AWAY SMART STRIPA revolutionary paint remover that is safe for the user, the substrate and the environment. This 100% biodegradable, water-based stripper is extremely effective for removing multiple layers of architectural and industrial coatings from virtually all interior/exterior surfaces - wood, brick, metal, concrete, stone, plaster, fiberglass, etc. Smart Strip does not contain methylene chloride, caustic, or toxic chemicals. It is odor free. Smart Strip is exceptional for the safe removal of lead based paint and is excellent for intricate, carved or molded surfaces. It is also great for removing marine paints without damaging the gel coat. Because it is a paste, Smart Strip can easily be applied by brush, roller or conventional airless sprayer. It is formulated to remain wet and effective over extended periods of time. See it Here

TAPEBuddy - Masking Tape at your Fingertips!

Keeps Masking Tapes Handy and Easily Available Used to quickly pullvarious strips of tape for masking and tacking.

Ladder Mate Multi-Purpose Ladder Tool

This is the most versatile ladder accessory we've found! It instantly levels ladder on any surface. Use it as a ladder jack, paint tray, step stool,tool carrier, ladder leveler, ladder platform, ladder standoff, stair leveler and more. Its "gripper feet" make it slip proof on any surface. You'll find new uses for this item every time you take it to your job. No professional should be without this tool. No LM ($94.77)
From our Faux Finish Department .............
Patina Aging Solution produces weathered look of Copper, Bronze or Rust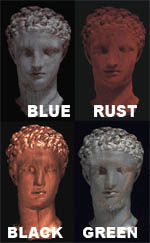 Use these solutions directly on copper, iron or brass or over a metallic paint to instantly create an aged patinaed look. Green or Blue patina creates the look of aged copper, Black creates the look of aged Bronze, Rust creates look of rusty metal. Use over our reactive metallic paints, ME148 Pale Gold, ME149 Copper, ME148 Harvest Gold, ME208 Iron or ME157 Rich gold to create a variety of effects. Available in Gallons, and Pints.